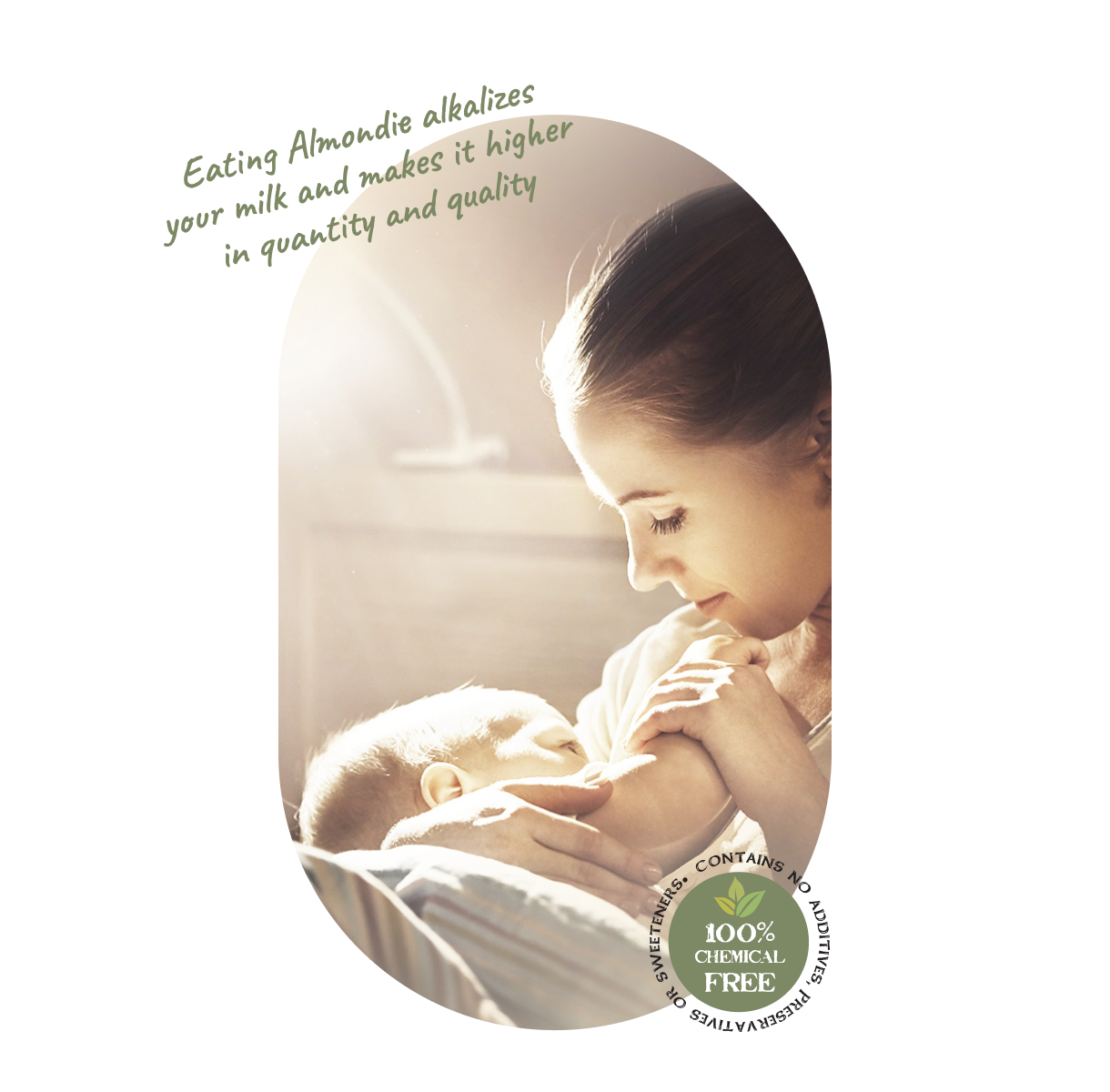 Benefits for Nursing Moms
Almondie Almond Butter is beneficial for nursing moms and babies, providing important nutrients and vitamins in an easily digestible and absorbable form.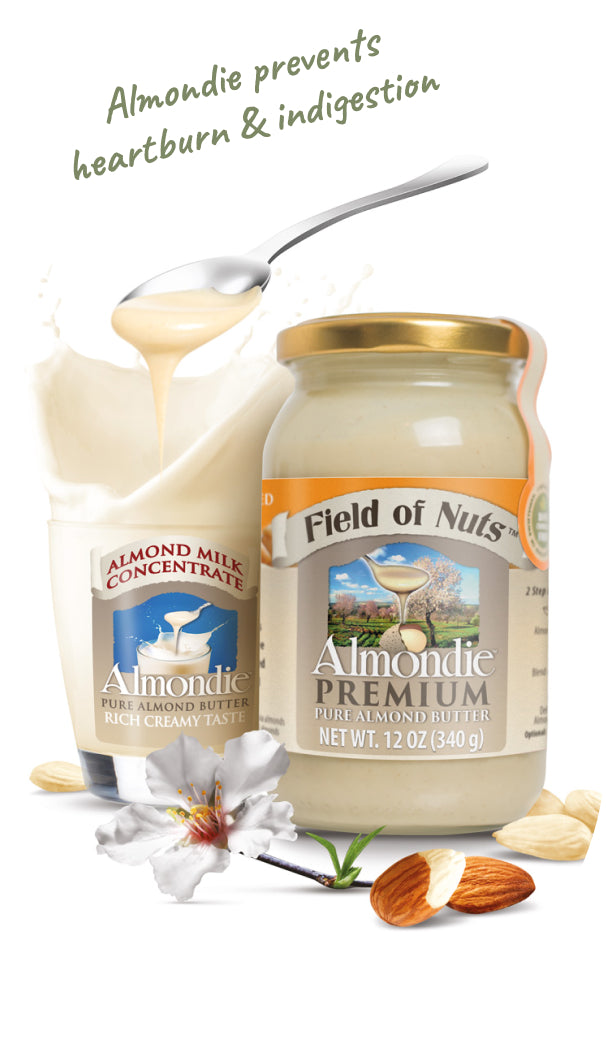 Almondie prevents heartburn & indigestion in pregnant women & nursing moms
Almondie Almond Butter, made from 100% fresh, raw, prime almonds, is manufactured entirely from almond kernels which are peeled and acid-free.
Major Benefits of Eating Almondie Almond Butter:
• Neutralizes stomach acid
• Prevents heartburn and indigestion in pregnant and nursing women*
The almonds' inner thin brown skins containing tannins and enzyme inhibitors which can cause indigestion are meticulously removed, leaving only the calcium-rich kernels.
Calcium, is the active ingredient in many antacid medicines. This makes Almondie a great, natural antacid in the form of a delicious almond butter!
For best results
To ease burning and alleviate pain and discomfort, eat 1 heaped teaspoon of Almondie before a meal and 1 teaspoon afterwards.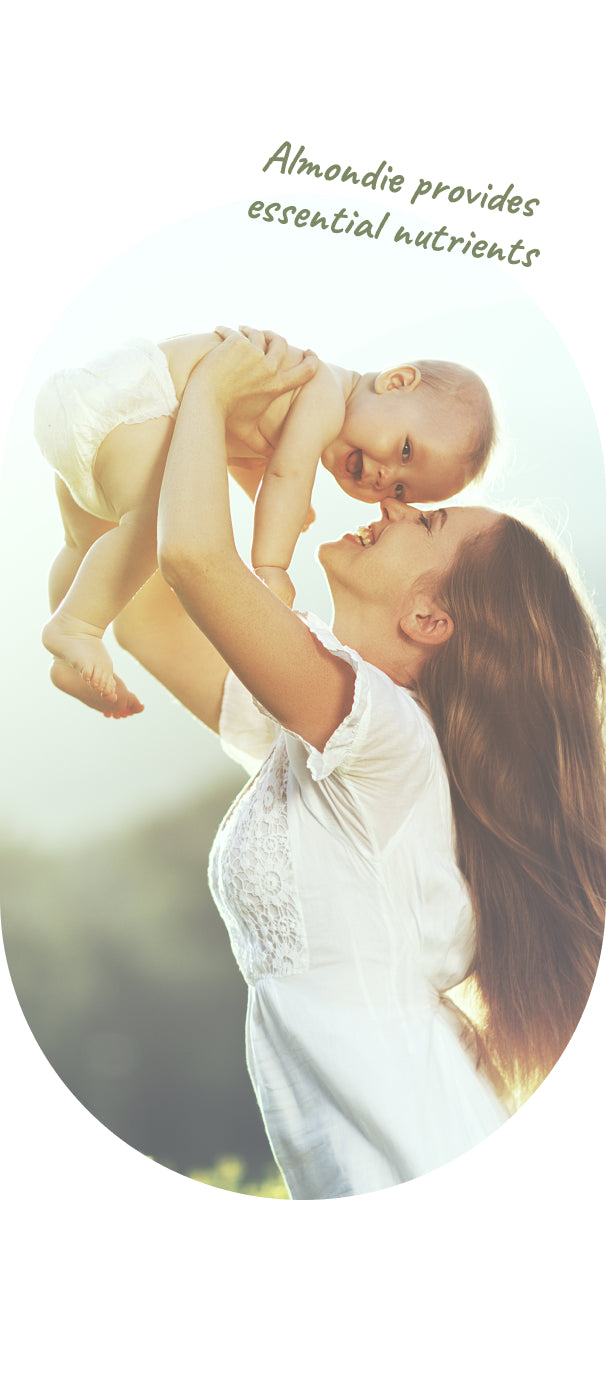 Almondie provides essential nutrients for pregnant women & nursing moms
Pregnant women and nursing mothers need higher than normal amounts of calcium, vitamins and minerals, and protein in their diet.
Nowadays, it's nearly impossible to get adequate nutrition from the food we consume. Many people rely on synthetic vitamin pills to get their nutrition; however, no vitamin pill can substitute for good, natural, nutritious food. *
Almondie is rich in protein, calcium, magnesium, vitamins B & E, and other essential nutrients. A 95gram serving of Almondie contains:
80% of the recommended dosage of magnesium for pregnant women and nursing mothers.
·5.7 milligrams of omega-3, necessary for in-utero and infant brain development.
Almondie also contains vitamin B9 which is Folic Acid. The high folic acid content in almonds is a natural way of lowering the chance of birth defects.
Laboratory tests have proven that pregnant women and nursing mothers can better absorb calcium and protein from Almondie, a plant source, than from animal sources.
*Always follow your doctor's advice regarding vitamin supplements in your diet.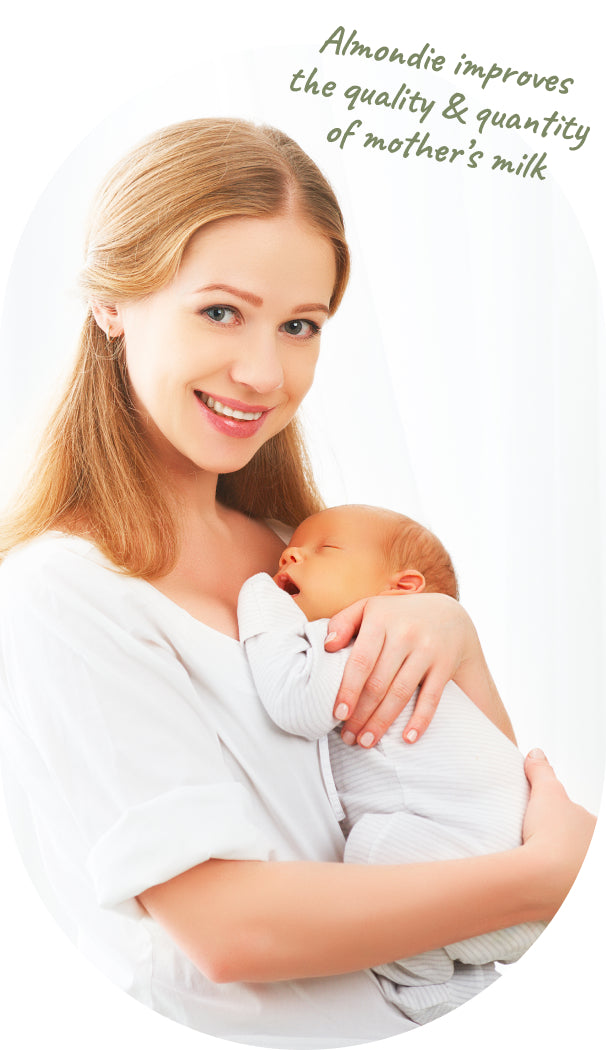 Almondie improves the quality & quantity of mother's milk
Lactation specialists recommend Almondie as an effective way to improve quality and quantity of breast milk.
Your baby will reach a healthy weight, be calmer and more content.
For Best Results: 
Eat 2-3 tbsp. of Almondie daily as a tasty, nutritious snack, to help make your milk richer and thicker.
Suggestions: add to toast and top with honey for a sweet treat, combine with almond milk for creamy smoothies, or eat with fruit slices.
Go to Store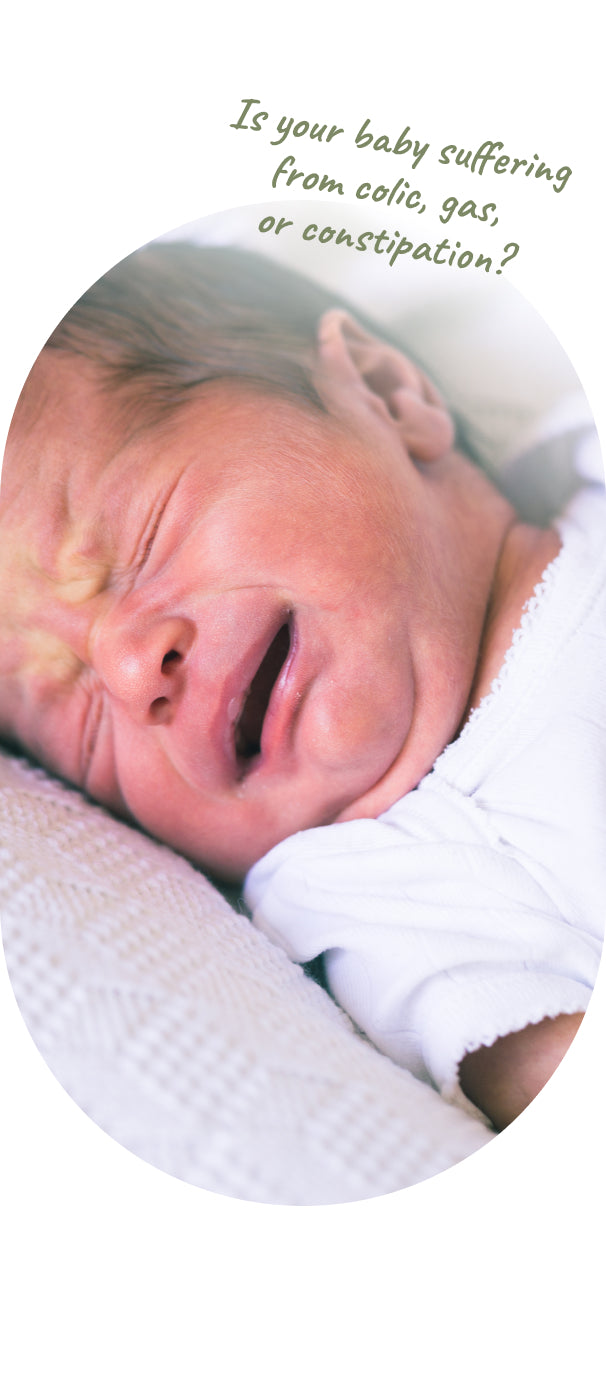 Almondie aids digestion for nursing moms & relieves baby's digestive problems
Is your baby suffering from colic or other digestive problems?
Adding Almondie to your daily diet alkalizes breast milk and makes it less acidic thereby alleviating your baby's suffering from:
• Colic
• Gas
• Constipation
By eating a daily serving of Almondie nursing mothers can improve their babies' digestion, soothing cramps and pains. 
Due to the high calcium content of raw almonds coupled with the fact that Almondie's almonds are skinless, nursing mothers will produce breast milk that is extremely low in acid. The benefits are passed on to feeding babies, easing their discomfort and allowing them (and you) to sleep better at night. 
Lactation specialists highly recommend Almondie  for nursing mother's with colicky babies.
Rest easy with Almondie!
Learn more
Almondie gives you sustained energy
When you eat a tablespoon of Almondie, within a few seconds, the abundance of nutrients is absorbed into your bloodstream, infusing you with strength and vitality.
Suggestions:  Use  Almondie Almond Butter as a spread, add to almond milk as a base for smoothies, or eat straight from the jar!
Go to Store
PLEASE NOTE: this statement has not been evaluated by the food and drug administration. This product is not intended to diagnose, treat, cure or prevent any disease.