Regular price
Sale price
$20.25 USD
Unit price
per
Sale
Sold out
Share
---
Freshest Brazil Nuts. Genuine Flavor. Superior Quality.
Benefit from the nutritional value of all natural, raw, Brazil Nut Butter by Field of Nuts.
Our Brazil Nut Butter is produced from select, handpicked, sustainably grown Brazil Nuts and ground totally raw without roasting using an innovative cold-press process. This preserves the nutritional value and delicious taste and also allows all of the nutrients in our Brazil Nut Butter to be digested quickly by your body.
100% raw
No added sugar, salt, or additives
Cold pressed
Vegan
Gluten-free
Non-GMO
Certified kosher
Paleo, Keto and Whole30 approved
Manufactured in a peanut-free and soy-free facility
Order your Brazil Nut Butter today and enjoy a healthier lifestyle
Ingredients: 100% raw ground brazil nuts.
Recommendation: Brazil nuts should be limited to 1 - 6 per day, i.e. 5 - 30 grams per day due to high selenium content.
For your information: 1 tablespoon of Brazil Nut Butter contains approximately 2.5 to 3 brazil nuts.
Oil separation occurs naturally. Mix well before use. Refrigerate after opening to preserve freshness.
View full details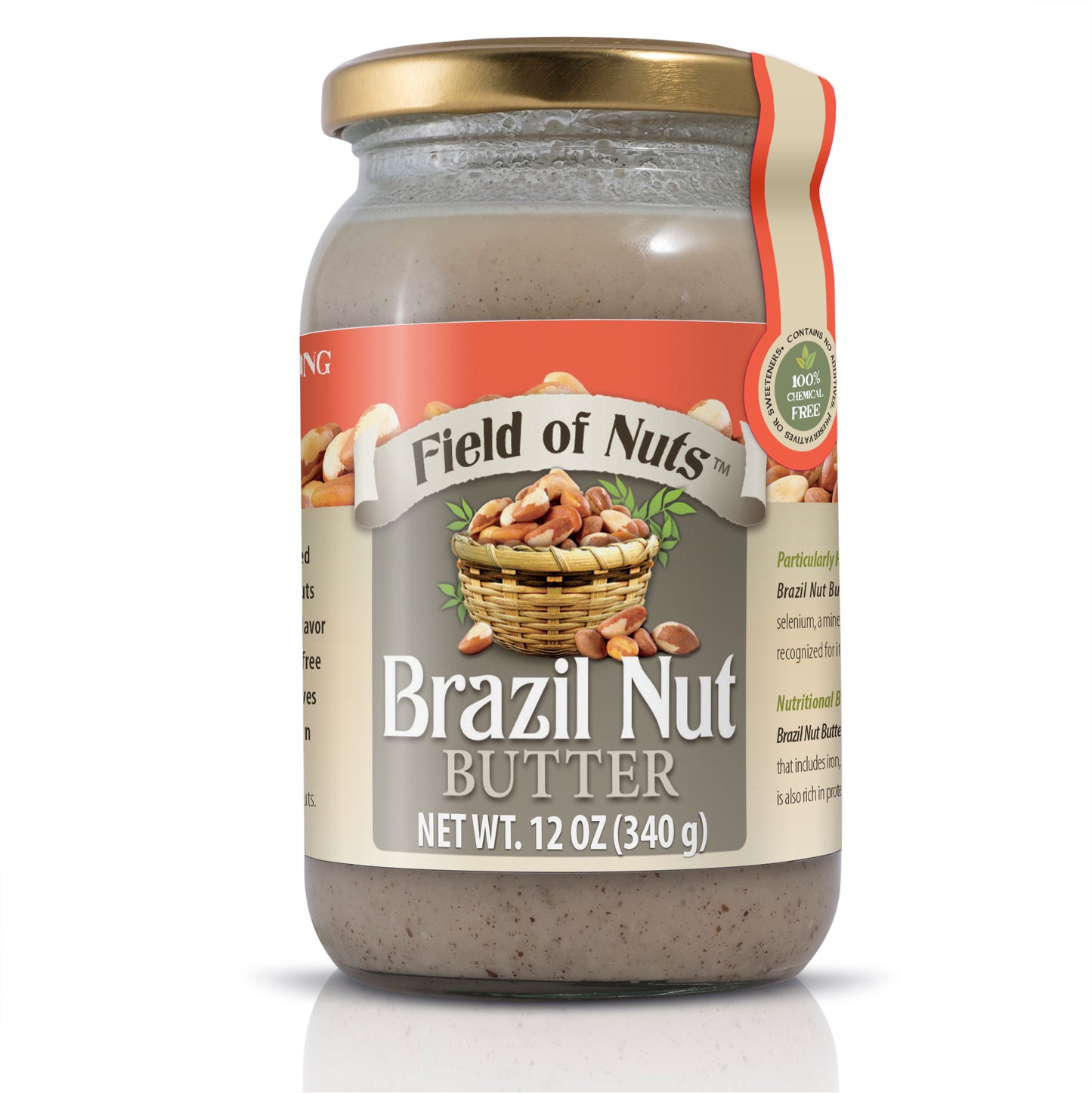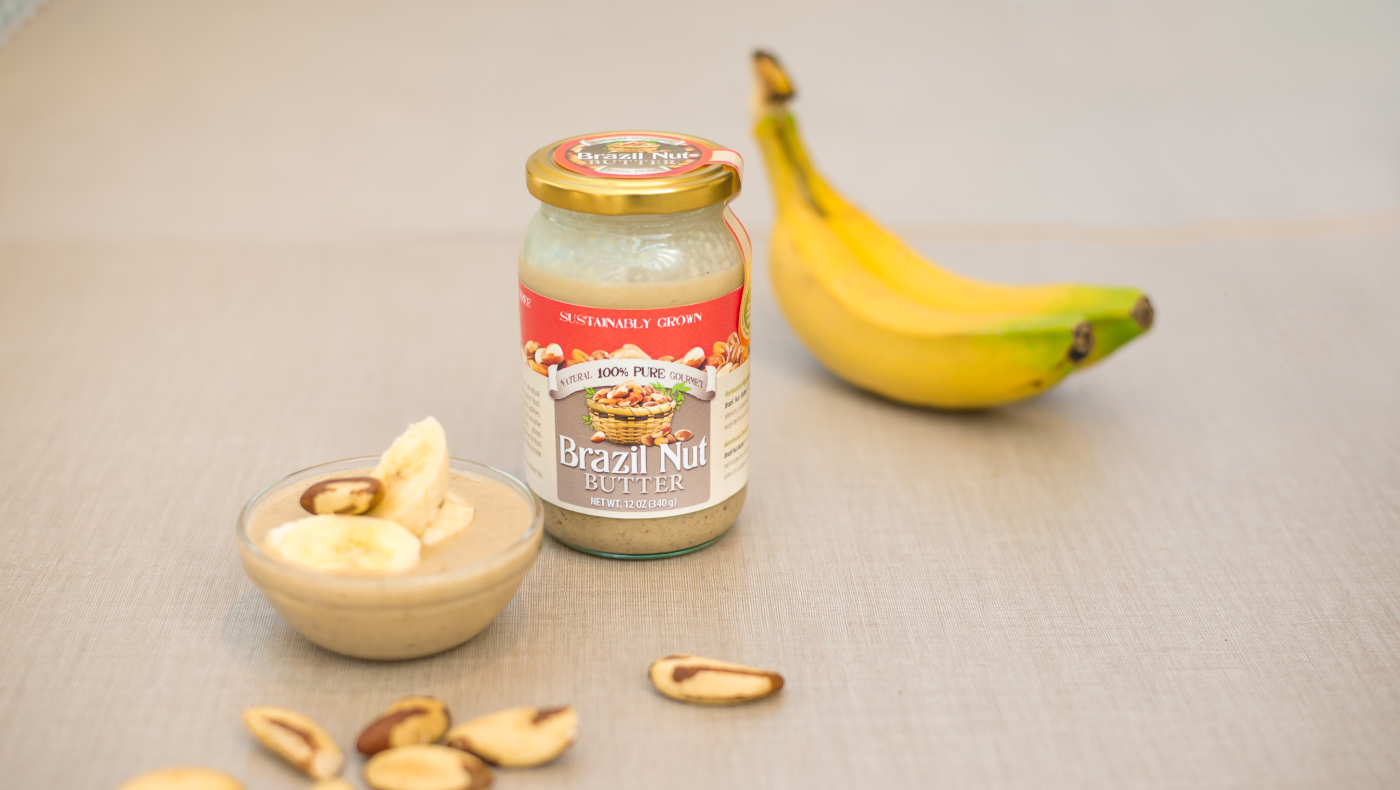 FAQs: Brazil Nut Butter
Who is Brazil Nut Butter suitable for?

Our Brazil Nut Butter is 100% raw and packed with nutrition. Its light, delicious taste and rich texture is all natural - it contains no sugar, salt or additives. Field of Nuts Brazil Nut Butter  is certified kosher, vegan, gluten-free, non-GMO, and dairy-free. Our Brazil Nut Butter  is Paleo, Keto, Whole30 and SCD approved, and manufactured in a peanut-free and soy-free facility.
There are so many ways to enjoy our Brazil Nut Butter

Eat it straight from the jar, spread on whole wheat toast or fruit, mix into yogurt, add it to thicken milk for children's cereal, make it into a creamy salad dressing, or blend it in your smoothies. Eat Brazil Nut Butter and honey sandwiches. The combination of the natural, light taste of Brazil Nuts is brought out by the sweetness of the honey. The rich flavor and nutritional value of Brazil Nut Butter by Field of Nuts is a tasty, low-carb snack. High in healthy, Polyunsaturated and Monounsaturated Fat, our Brazil Nut Butter satisfies you and keeps you from snacking on less healthy options. 

IMPORTANT NOTE - Mix well before use to ensure the texture thickens into a creamy, smooth butter. If not mixed completely, the butter may appear runny. Some natural separation may occur if the butter is not combined.

Click here for recipe ideas and suggestions for enjoying our Brazil Nut Butter

You are invited to send us your own recipes and suggestions for using our Brazil Nut Butter
No vitamin pill can substitute for good nutrition!

Brazil Nut Butter is made from raw, sustainably grown, hand-selected brazil nuts  of the finest quality. Brazil Nuts are high in Selenium, Copper, Magnesium, Manganese, Phosphorus, and Omega 6 Fatty Acids. It contains Poly- and Monounsaturated fats, and is made with absolutely no preservatives, chemicals or additives. Brazil Nut Butter has a natural taste with no added sugar or salt.  Just pure, raw brazil nuts.
View list of nutrients in Brazil Nut Butter

Brazil Nut Butter contains the following per 28 grams (2 tablespoons)

Macronutrients: 

• Unsaturated Fat 14.7 g

• Carbohydrates 3.5 g 1%

• Dietary Fiber 2.1 g 8%

• Protein 4.1 g 8%

Vitamins:

• Thiamin 0.2 mg 12%   

• Vitamin E 1.6mg 8% 

Minerals:

• Copper 0.5 mg 25%

• Manganese 0.3mg 17%

• Magnesium 105mg 26%

• Selenium  537mcg 767%

• Phosphorus 203mg 20%

Fatty Acids:

• Omega-3 5.0 mg

• Omega 6 - 5758 mg 34%
Nutritional Benefits of Brazil Nuts

• Especially rich in Selenium  which prevents oxidation and is antioxidant. It is naturally the most effective for the treatment and prevention of cancer and malfunction. It maintains correct functioning of the heart, builds and strengthens bones. 

• Rich in Omega 6 Fatty Acids which play a crucial role in brain function, skin and hair growth.

• Rich in Magnesium which is a cofactor in many enzyme systems that regulates protein synthesis, muscle and nerve function, blood glucose control, and blood pressure. It also helps prevent children from developing ADHD as well as development of a healthy heart. 

• Rich in Copper which helps in the function of a healthy nervous system, prevents anemia and osteoporosis. 

• Contains Manganese vital in bone tissues, calcium absorption, blood sugar regulation, brain and nerves. 

• Contains Phosphorus essential for body structure and strengthening. Especially recommended for pregnant women and nursing moms. 

• Contains Thiamin, Vitamin B1which is essential for glucose metabolism.
How can Brazil Nut Butter benefit your health?

• Reduces depression

• Improves sperm quality

• Supports thyroid function

• May reduce inflammation

• Reduces the risk of cancer

• Promote Skin and hair growth

• Assists with weight management

• Regularly eating nuts has been shown to contribute to heart health

• Reduces overall mortality and the risk of developing type 2 diabetes 

• High in Selenium, a mineral with antioxidant properties which are substances that help keep your cells healthy

• Brazil nuts may improve lipid profiles in healthy adults, thus reducing total cholesterol levels and LDL ("bad") cholesterol

• May support brain function and reduce cognitive decline in the elderly, which may protect against Alzheimer's Disease and Parkinsons
Testimonial
Les Brown, Detroit, MI

For a while, I have been, unfortunately, suffering from depression and mood swings. My partner suggested that I should try brazil nut butter since brazil nuts contain a high amount of selenium, which is a mood booster. I try to eat a small amount most days, and have incorporated it into my regular diet. The butter does seem tobe helping with mood control, and I have been feeling more positive lately.

Claire Morrison, Sacramento, CA

My mom suggested I try eating brazil nut butter as she'd heard that brazil nuts contain oils which help control acne and reduce inflamed skin. SoI tried eating Field of Nuts pure brazil nut butter and after a couple of weeks, my friends said my skin looked a lot clearer, and was glowing! That makes me very happy!