Regular price
Sale price
$22.50 USD
Unit price
per
Sale
Sold out
Share
---
Freshest Hazelnuts. Genuine Flavor. Superior Quality.
Treat yourself to the creamy, rich, distinctive taste of Hazelnut Butter by Field of Nuts.
Our Hazelnut Butter is produced from select, handpicked, sustainably grown hazelnuts and ground totally raw without roasting using an innovative cold-press process. This preserves the nutritional value and delicious taste and also allows all of the nutrients in our Hazelnut Butter to be digested quickly by your body.
100% raw
No added sugar, salt, or additives
Cold pressed
Vegan
Gluten-free
Non-GMO
Certified kosher
Paleo, Keto and Whole30 approved
Manufactured in a peanut-free and soy-free facility
Order your Hazelnut Butter today and enjoy a healthier lifestyle
Ingredients: 100% raw ground hazelnuts.
Oil separation occurs naturally. Mix well before use. Refrigerate after opening to preserve freshness.
View full details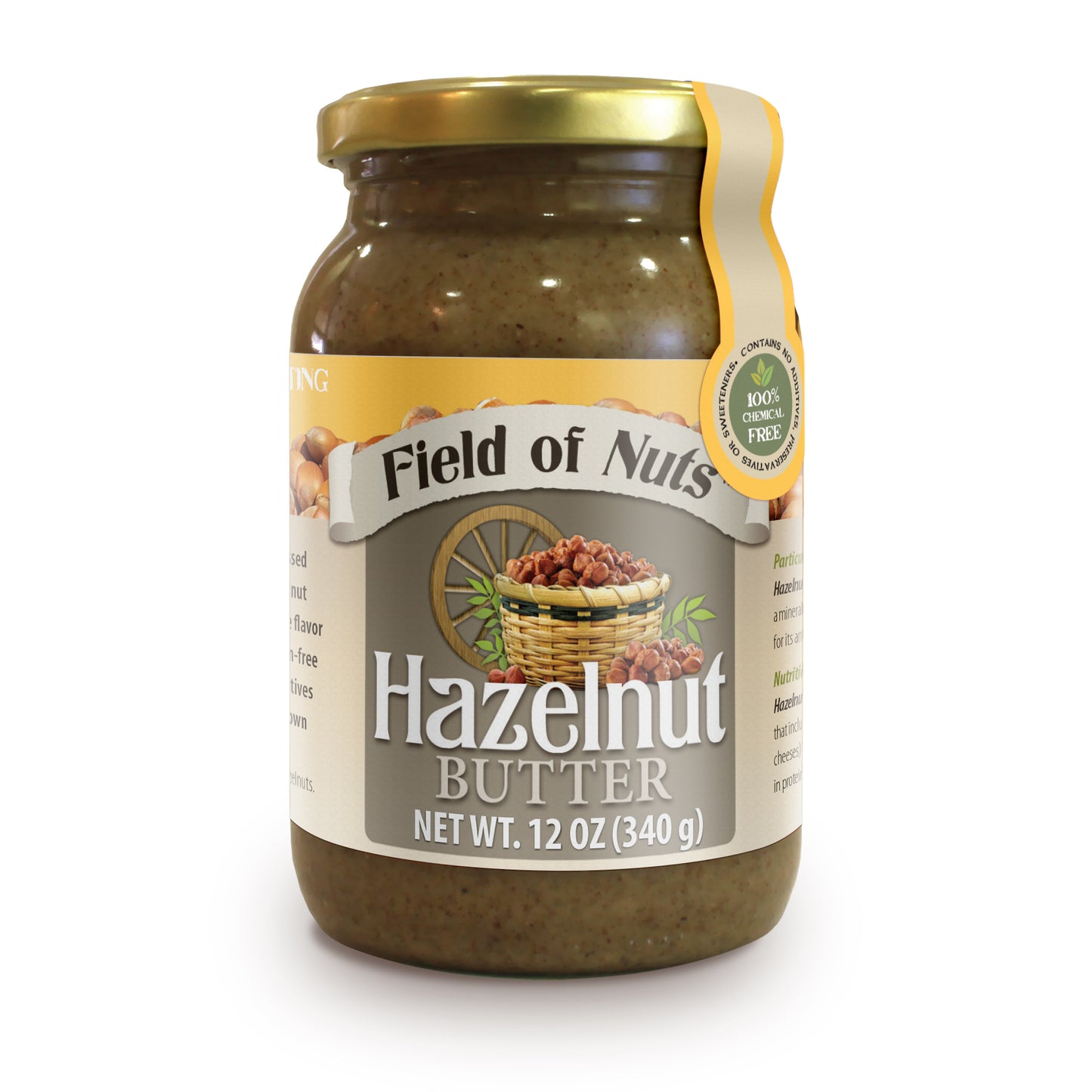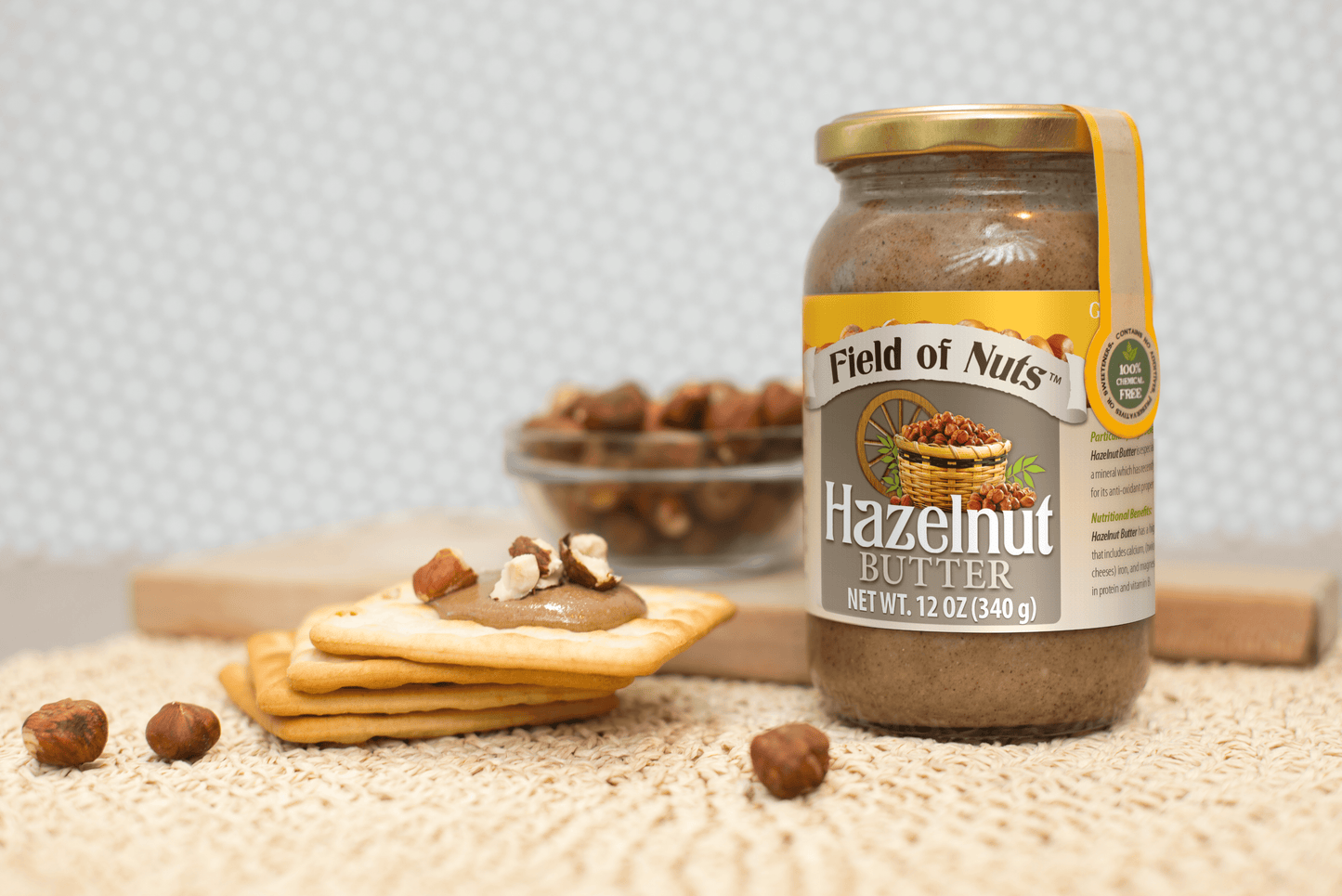 FAQs: Hazelnut Butter
Who is Pistachio Nut Butter suitable for?

Our Hazelnut Butter is 100% raw and packed with nutrition. Its nutty, delicious taste and rich texture is all natural - it contains no sugar, salt or additives. Field of Nuts Hazelnut Butter  is  certified kosher, vegan, gluten-free, non-GMO, and dairy-free. Our Hazelnut Butter  is Paleo, Keto and Whole30 and SCD approved, and manufactured in a peanut-free and soy-free facility.
There are so many ways to enjoy our Hazelnut Butter
No vitamin pill can substitute for good nutrition!

Hazelnut Butter is made from raw, sustainably grown, hand-selected hazelnuts of the finest quality. Hazelnuts contain a great nutrient profile, and are especially high in Manganese, Copper, Fiber, and Vitamins E & B. It contains Poly- and Monounsaturated Fat, and is made with absolutely no preservatives, chemicals or additives. Hazelnut Nut Butter has no added sugar or salt.   Just pure, raw hazelnuts.
View list of nutrients in Hazelnut butter

Hazelnut Butter contains the following per 28 grams (2 tablespoons)

Macronutrients: 

• Unsaturated Fat 20%

• Carbohydrates 4.7g 2%

• Dietary Fiber 2.7g 11%

• Protein 4.2g 8% 

Vitamins:

• Vitamin E 4.3 mg 28% 

• Thiamin (B1) 0.2mg 14%

• B6 0.2mg 8%

• Folate (B9) 32.1mcg 8% 

Minerals:

• Copper 0.5mg 52%

• Manganese 1.7mg 76%

• Magnesium 46.3mg 11%

• Potassium 12%

• Zinc 4%

Fatty Acids:

• Omega-3 24.4 mg

• Omega-6 2,225 mg

Hazelnuts are particularly low in carbohydrates (only 2% DV per tablespoon) 
Nutritional Benefits of Hazelnut Butter

• Especially rich in Manganese which is vital in bone tissues, calcium absorption, blood sugar regulation, brain and nerves. 

• Especially rich in Copper which helps in the function of a healthy nervous system, prevents anemia and osteoporosis.

• Particularly rich in Vitamin E responsible for immune function, may help prevent some types of cancer and is linked to a decrease in heart attacks and maintain cell wall function and prevent aging. 

• Contains Thiamin, Vitamin B1 which is essential for glucose metabolism.  

• Contains Potassium for the proper functioning of the nervous system. 

• Contains Magnesium which is a cofactor in many enzyme systems that regulates protein synthesis, muscle and nerve function, blood glucose control, and blood pressure. It also helps prevent children from developing ADHD as well as development of a healthy heart. 

• Contains Dietary Fiber which encourages the body's elimination of waste and quickly relieves constipation which helps with digestion and regulates metabolism. 

• Contains Zincfor healing stubborn wounds,building healthy bones and muscles and strengthening the immune system.
How can Hazelnut Butter benefit your health?

• Reducing weight gain

• May Lower cholesterol 

• Reducing inflammation 

• Improving sperm count

• Supporting heart health

• Improving insulin sensitivity

• Protecting against cell damage

• Supporting healthy bowel movements
Testimonial
Jeremy Feldman, Philadelphia, PA

I have been suffering for many years with hereditary high cholesterol levels. Although my cholesterol was borderline for taking regular medicines, I wanted to try a natural method of lowering the levels. Google led me to hazelnutssoI tried Field of Nuts Hazelnut butter. I happen to love the taste of hazelnuts anyway, so I thought this was a great idea. When the next blood test came around, my cholesterol levels were significantly improved! PlusI know that hazelnuts have a whole host of other health benefits andIm looking forward to trying more Field of Nuts products.

Rachel Adams, New York, NY

Keeping up as high a level of calcium as well as vitamin D are very important in improving and maintaining bone health asone gets older. I have been eating Hazelnut Butter by Field of Nuts to improve my calcium levels. I eat it with rice cakes as a snack, and have found it very easy to digest, very enjoyable and easy to use. The Hazelnut Butter also give me energy, and is far more healthy than chocolate! So far, so good. I am in my 70s and have healthy bones.