Regular price
$25.00 USD
Sale price
$29.00 USD
Unit price
per
Sale
Sold out
Share
---
Freshest Macadamia Nuts. Genuine Flavor. Superior Quality.
Indulge in the rich, smooth creamy delicate taste of all natural, raw Macadamia Nut Butter by Field of Nuts.
Our Macadamia Nut Butter is produced from select, handpicked, sustainably grown macadamia nuts and ground totally raw without roasting using an innovative cold-press process. This preserves the nutritional value and delicious taste and also allows all of the nutrients in our Macadamia Nut Butter to be digested quickly by your body.
100% raw
No added sugar, salt, or additives
Cold pressed
Vegan
Gluten-free
Non-GMO
Certified kosher
Paleo, Keto and Whole30 approved
Manufactured in a peanut-free and soy-free facility
Order your Macadamia Nut Butter today and enjoy a healthier lifestyle
Ingredients: 100% raw ground macadamia nuts.
Oil separation occurs naturally. Mix well before use. Refrigerate after opening to preserve freshness.
View full details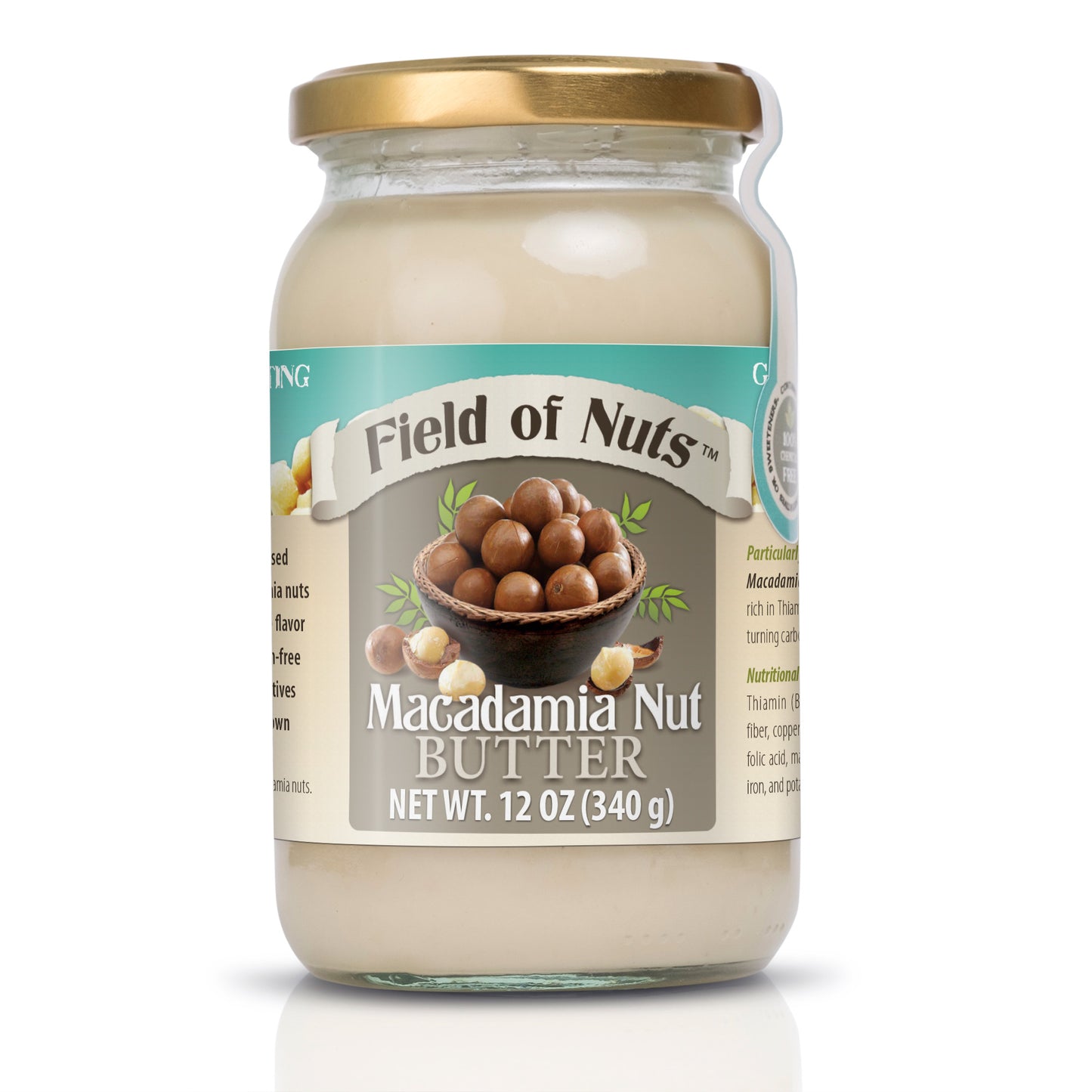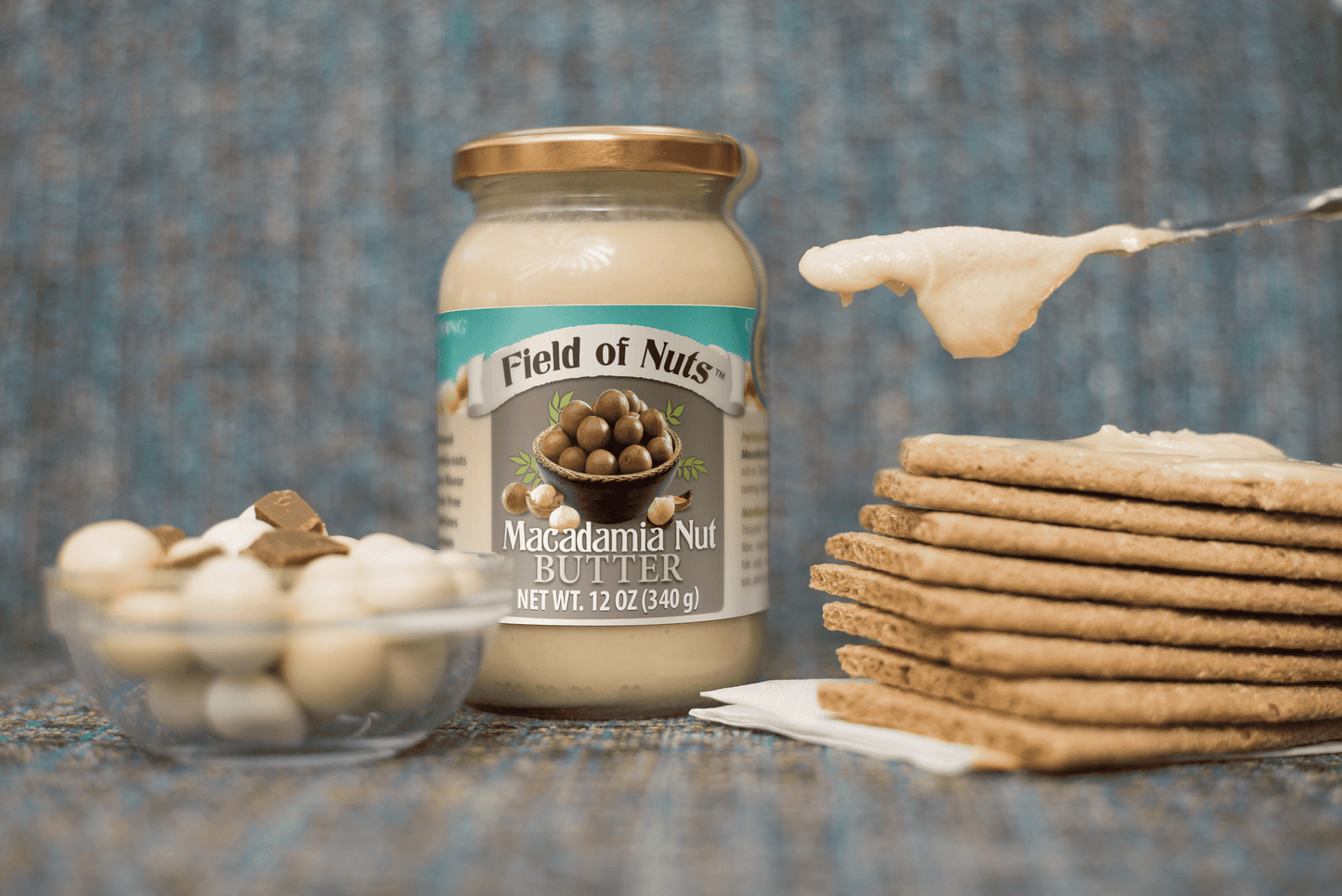 FAQs: Macadamia Nut Butter
Who is Macadamia Nut Butter suitable for?

Our Macadamia Butter is 100% raw and packed with nutrition. Its creamy, delicate taste is all natural - it contains no sugar, salt or additives.  Field of Nuts Macadamia Butter  is certified kosher, vegan, gluten-free, non-GMO, and dairy-free. Our Macadamia Butter is Paleo, Keto, Whole30 approvedand SCD approved, and manufactured in a peanut-free and soy-free facility.
There are so many ways to enjoy our Macadamia Butter

Eat it straight from the jar, spread on whole wheat toast or fruit, mix into yogurt, make it into a creamy salad dressing, or blend it in your smoothies. Eat Macadamia Butter and honey sandwiches. The combination of the natural, delicate taste of Macadamias is brought out by the sweetness of the honey. The rich flavor and nutritional value of Macadamia Butter by Field of Nuts is a tasty, low-carb snack. Especially high in healthy, monounsaturated fat, our Macadamia Butter satisfies you and keeps you from snacking on less healthy options.

You are invited to send us your own recipes and suggestions for using our Macadamia Butter
No vitamin pill can substitute for good nutrition!

Macadamia nuts are high in Manganese, Thiamin (Vitamin B1), and Copper and Dietary Fiber, and made with absolutely no preservatives, chemicals or additives. It contains Monounsaturated Fat, and is made with absolutely no preservatives, chemicals or additives.  Macadamia Nut Butter has no added sugar or salt. Just Pure, raw macadamia nuts.
View list of nutrients in Macadamia Nut Butter

Macadamia Nut Butter contains the following per 28 grams (2 tablespoons)

Macronutrients: 

• Unsaturated Fat 16.9 g

• Carbohydrates 4 g 1%

• Dietary Fiber 2.4 g 10%

• Protein 2.2 g 4% 

Vitamins:

• Thiamin (B1)0.3 mg 26%

Minerals:

• Copper 0.2 mg 24%

• Manganese 1.2 mg 51%

• Magnesium 36.5 mg 9%

Fatty Acids:

• Omega-3 57.7 mg

• Omega-6 363 mg
Nutritional Benefits of Macadamia nut Butter

• Especially rich in Manganese which is vital in bone tissues, calcium absorption, blood sugar regulation, brain and nerves. 

• Rich in Thiamin, Vitamin B1 which is essential for glucose metabolism. 

• Rich in Copper which is involved in energy production, aids in the formation of red blood cells, bone, and haemoglobin, helps in the development of a healthy nervous system, prevents anemia, and prevents osteoporosis. 

• Contains a moderate amount of Dietary Fiberwhich encourages the body's elimination of waste and quickly relieves constipationwhich helps with digestion and regulates metabolism.
How can Macadamia Nut Butter benefit your health?

• Stave off hunger

• Protect the brain

• May prevent cancer

• May prevent weight gain 

• Lower heart disease risk

• Improve metabolic syndrome and diabetes
Testimonial
Joe Levine, Jackson, NJ

I was suffering with nose-bleeds so I went to my doctor. He took my blood pressure, and told me I had hypertension (high blood pressure).As well as starting me on traditional medicine, he told me to try eating more nuts such as macadamia nuts which can lower high BP readings. I started eating macadamia nut butter on crackers as a snack. A short while later the doc. did another reading, and my BP was almost back to normal! I'm sure the Macadamia butter helped, and it was also delicious.

Rachel Adler, Monsey, NY

Being a busy woman, I don't get that much time to pay attention to my diet, so I'm always looking for "quick and easy" foods. I wanted to improve my health and especially, I needed to increse my level of dietary fiber. It seemed one easy way to do this was to eat nuts, and I heard that macadamia nuts contain dietary fiber. I tried macadamia nut butter from Field of Nuts, and loved the creamy taste. After a week or two, my digestive system appeared to be functioning a lot better, and I feel like I have more energy.

Luis Garcia, San Antonio, TX

Being a new bodybuilder, im looking for a healthy quick fix after a workoutwhich can boost my protein levels. I'm not into "health bars" or whey powder, so i thought i would go for nut butters. I like the Field of nuts Macadamia butter because it fits my lifestyle and is full of healthy nutrients it also tastes good!