Regular price
Sale price
$29.00 USD
Unit price
per
Sale
Sold out
Share
---
Freshest Pecans. Genuine Flavor. Superior Quality.
Enjoy the rich, buttery taste of all natural, raw, Pecan Nut Butter by Field of Nuts.
Our Pecan Nut Butter is produced from select, handpicked, sustainably grown pecans and ground totally raw without roasting using an innovative cold-press process. This preserves the nutritional value and delicious taste and also allows all of the nutrients in our Pecan Nut Butter to be quickly and easily digested by your body.
100% raw
No added sugar, salt, or additives
Cold pressed
Vegan
Gluten-free
Non-GMO
Certified kosher
Paleo, Keto and Whole30 approved
Manufactured in a peanut-free and soy-free facility
Order your Pecan Nut Butter today and enjoy a healthier lifestyle
Ingredients: 100% raw ground pecan nuts.
Oil separation occurs naturally. Mix well before use. Refrigerate after opening to preserve freshness.
View full details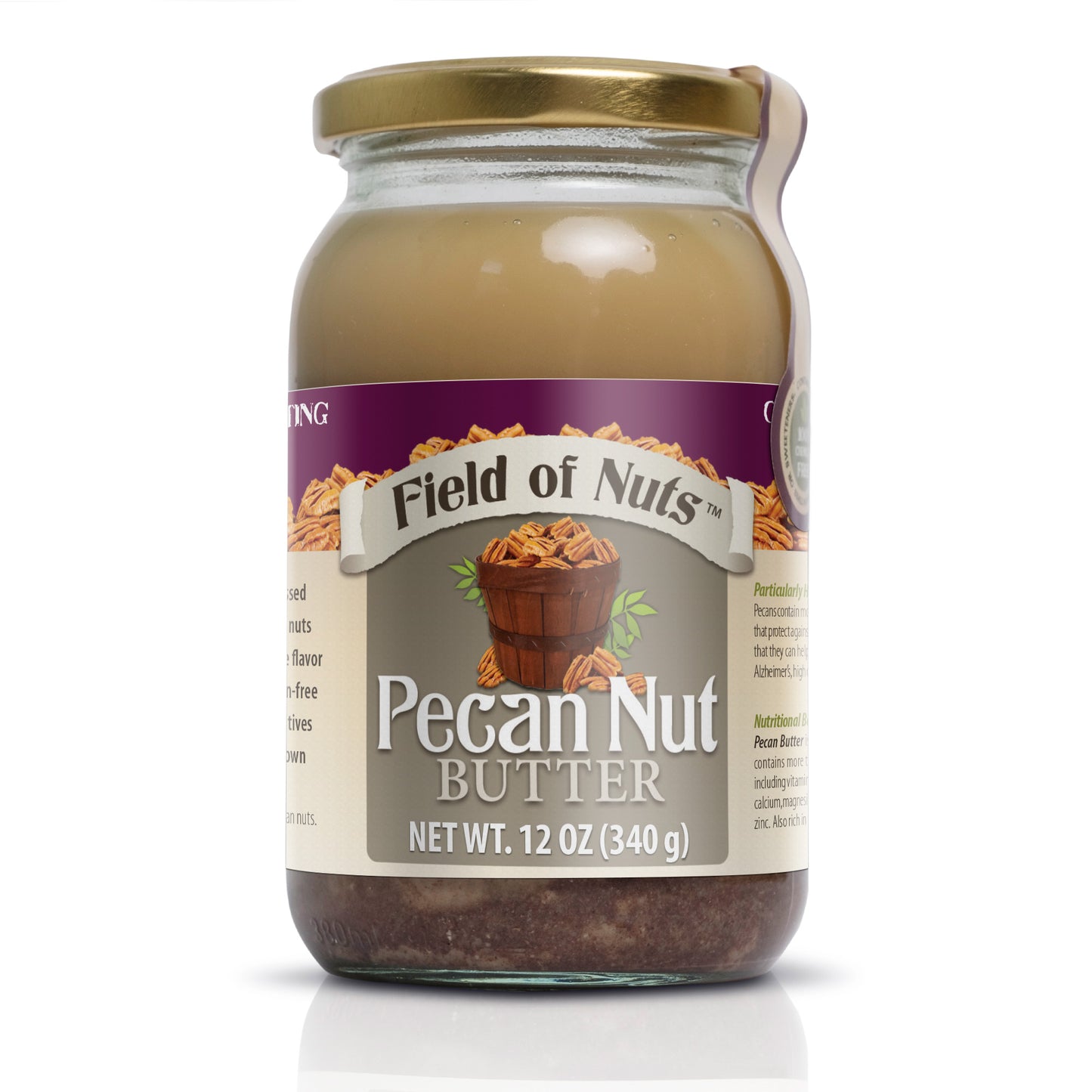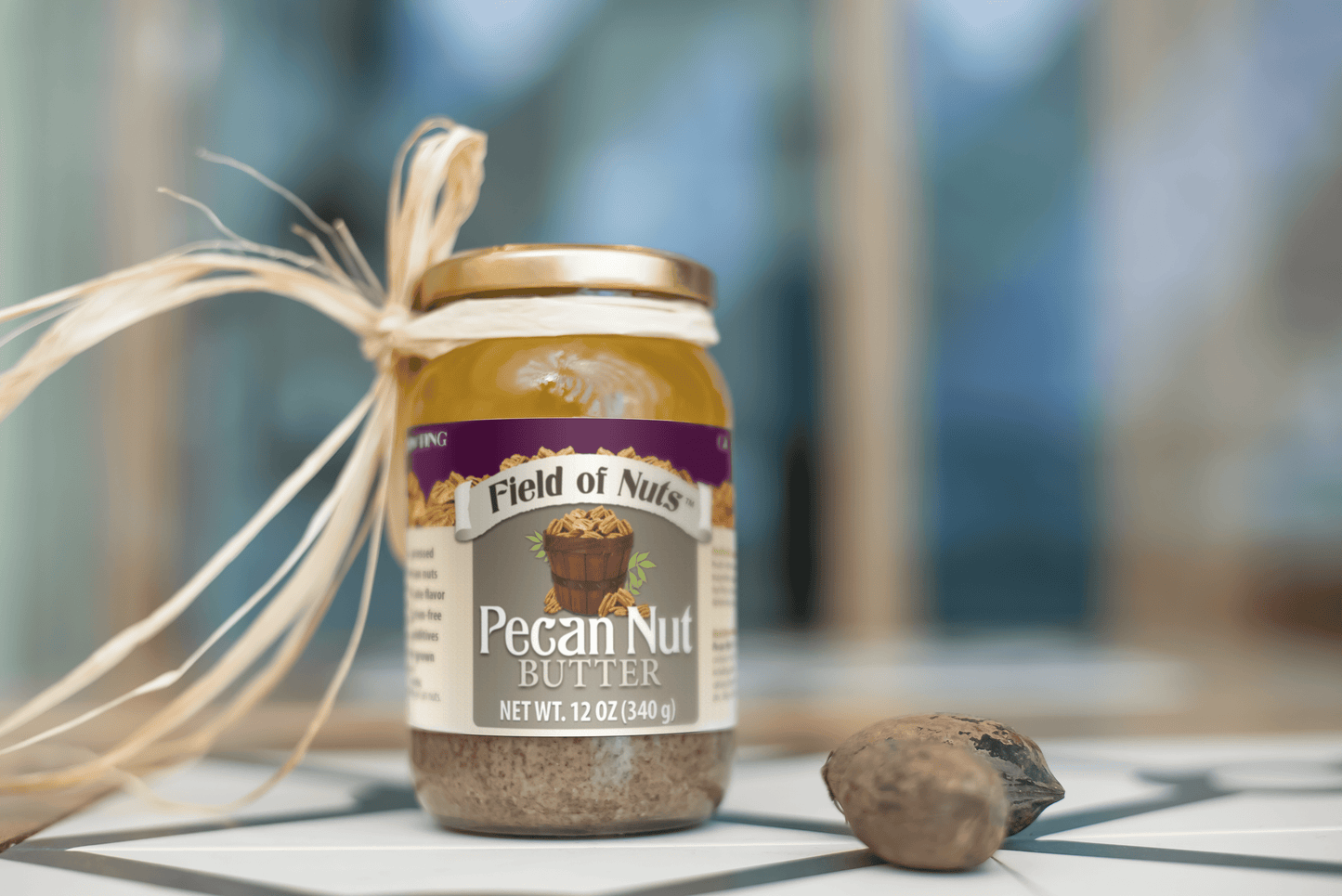 FAQs: Pecan Nut Butter
Who is Pecan Butter suitable for?

Our Pecan Butter is 100% raw and packed with nutrition. It's delicious, buttery taste and rich texture is all natural - it contains no sugar, salt or additives. Field of Nuts Pecan Butter is certified kosher, vegan, gluten-free, non-GMO, and dairy-free. Our Pecan Butter is Paleo, Keto and Whole30 and SCD approved, and manufactured in a peanut-freeand soy-free facility.
There are so many ways to enjoy our Pecan Butter
No vitamin pill can substitute for good nutrition!

Our Pecan Butter is made from raw, sustainably grown, hand-selected pecans of the finest quality. Pecans are high in Manganese, Thiamin (Vitamin B1), Copper, Phosphorus, and Omega-6 Fatty Acids. It contains Monounsaturated Fat, and is made with absolutely no preservatives, chemicals or additives. Pecan Butter has no added sugar or salt.  with no added sugar or salt.  Just pure, raw Pecans.
View list of nutrients in Pecan Butter

Pecan Butter contains the following per 28 grams (2 tablespoons)

Macronutrients: 

• Unsaturated Fat 17.5 g

• Carbohydrates 3.9 g 1%

• Dietary Fiber 2.7 g 11%

• Protein 2.6 g 5%

Vitamins:

• Thiamin (B1) 0.2 mg 12%

Minerals:

• Iron - 0.7 mg 4%

• Magnesium - 34.3 mg 8%

• Phosphorus - 79 mg 6%

• Zinc - 1,3 mg 10%

• Copper 0.3 mg 17%

• Manganese 1.3 mg 63%

Fatty Acids:

• Omega-3 276 mg

• Omega-6 5.7 mg
Nutritional Benefits of Raw Pecan Butter

• Especially rich in Manganese which is vital in bone tissues, calcium absorption, blood sugar regulation, brain and nerves. 

• Rich in Copper which is involved in energy production, aids in the formation of red blood cells, bone, and haemoglobin, helps in the development of a healthy nervous system, prevents anemia, and prevents osteoporosis, calcium absorption, blood sugar regulation, brain and nerves. 

• Contains Omega 6 Fatty Acids which play a crucial role in brain function, skin and hair growth. 

• Rich in Thiamin, Vitamin B1 which is essential for glucose metabolism.
How can Pecan Butter benefit your health?

• Boosts Immunity

• Anti-aging Benefits

• Improves Digestion

• Helps with Weight Loss

• Prevents Skin Problems

• May lower high cholesterol

• Anti-Inflammatory Benefits

• Reduces the Risk of Certain Cancer 

• Can help fight diseases like Alzheimer's and Parkinson's

• Heart Healthy. Pecan nuts contain monounsaturated fats such as oleic acid along with phenolic antioxidants which help reduce the risk of heart disease
Testimonial
Rebecca Cohen, Brooklyn, NY

I read that pecan nut butter may aid in weight loss. I was a bit sceptical, but I thought I would give it a try. I started eating Field of Nuts pecan butter on whole-wheat toast for breakfast, and it actualy helped. I managed to go through to lunchtime without my normal snack of cookies and milk, and just ate a piece of fruit if I got hungry. Just this small change made me lose 3 pounds in2 weeks, which I was quite happy with. I also felt full for longer in the mornings.

Mr.  Jackie Solomon, Minneapolis, MN

I am in my 50s, and still want to look young. Im into natural foods, so I thought I would try eating pecan nuts because I found out that they contain lots of minerals which help keep skin looking fresh and younger, through high amounts of vitamin A and zinc. It also appears that they prevent wrinkles, which is a good thing! Actually, two of my friends just told me how helthy and young-looking I am nowadays, so it must be working!