Regular price
Sale price
$15.00 USD
Unit price
per
Sale
Sold out
Share
---
Freshest Sesame Seeds. Genuine Flavor. Superior Quality.
Enjoy the taste of lightly roasted, whole, unhulled, pre-sprouted, USDA-certified organic Total Sesame.
Our sesame seeds are soaked, pre-sprouted*, and immediately ground into a creamy butter. We use an innovative cold-press process when the sesames are at their nutritional peak without the use of any chemicals, additives, preservatives, salt, or sweeteners. This process preserves their nutritional value and delicious taste.
MAX Tahini and Total Sesame - the difference:
Max Sesame is made from completely raw, unroasted sesame seeds. Total Sesame is made from sesame seeds that have been lightly roasted. The former offers a more authentic taste and absolute maximum nutritional value, as the seeds have not been exposed to any heat at all. Total sesame offers a slightly sweeter, more refined taste which some people prefer.
100% raw, organic and packed with nutrition.
All natural - contains no sugar, salt or additives
Cold pressed
Vegan
Gluten-free
Non-GMO
Certified kosher
Paleo, Keto and Whole30 approved
Manufactured in a peanut-free and soy-free facility
Order your Total Sesame today and enjoy a healthier lifestyle
Ingredients: Whole (unhulled), pre-germinated, lightly roasted, organic sesame seeds.
Oil separation occurs naturally. Mix well before use. Refrigerate after opening to preserve freshness.
View full details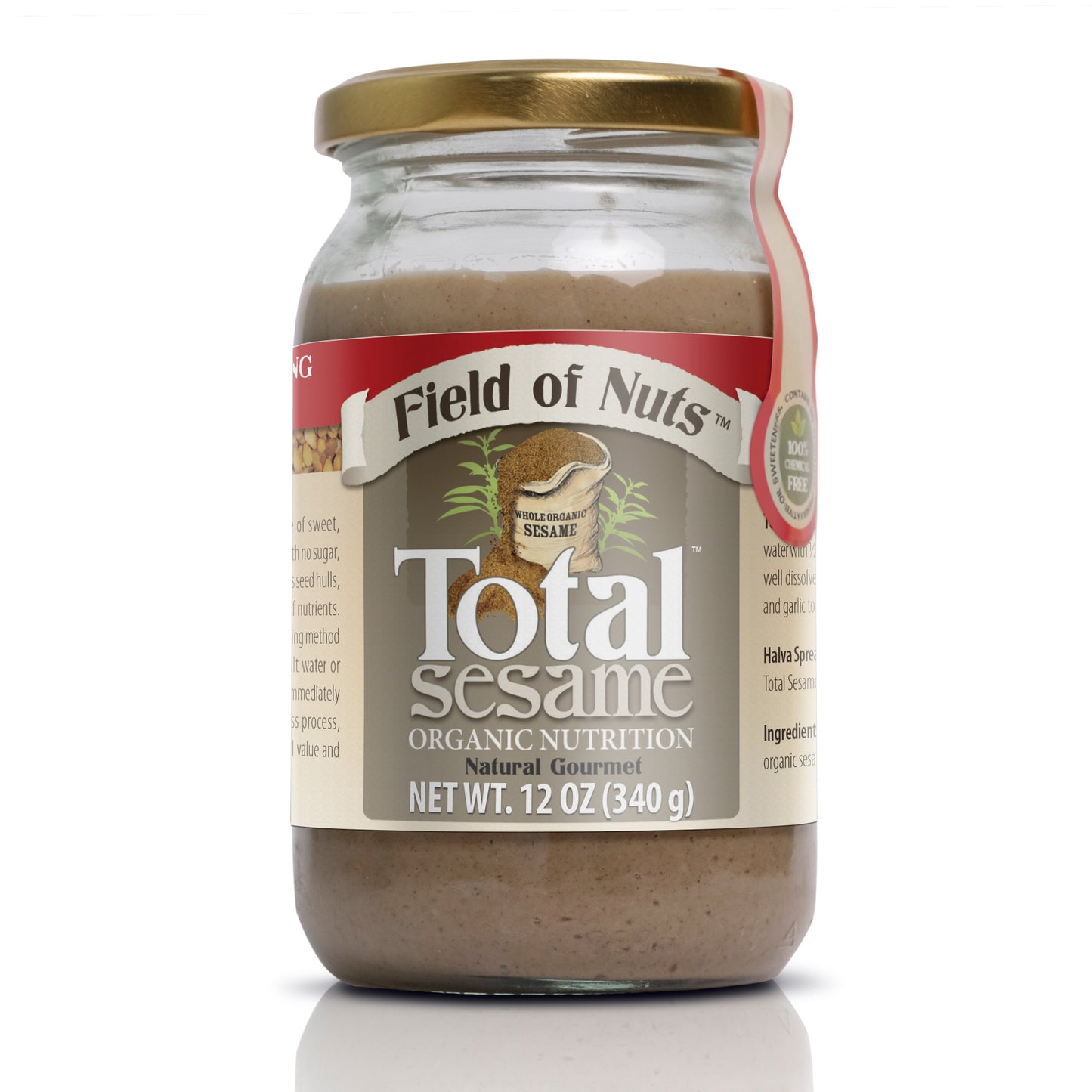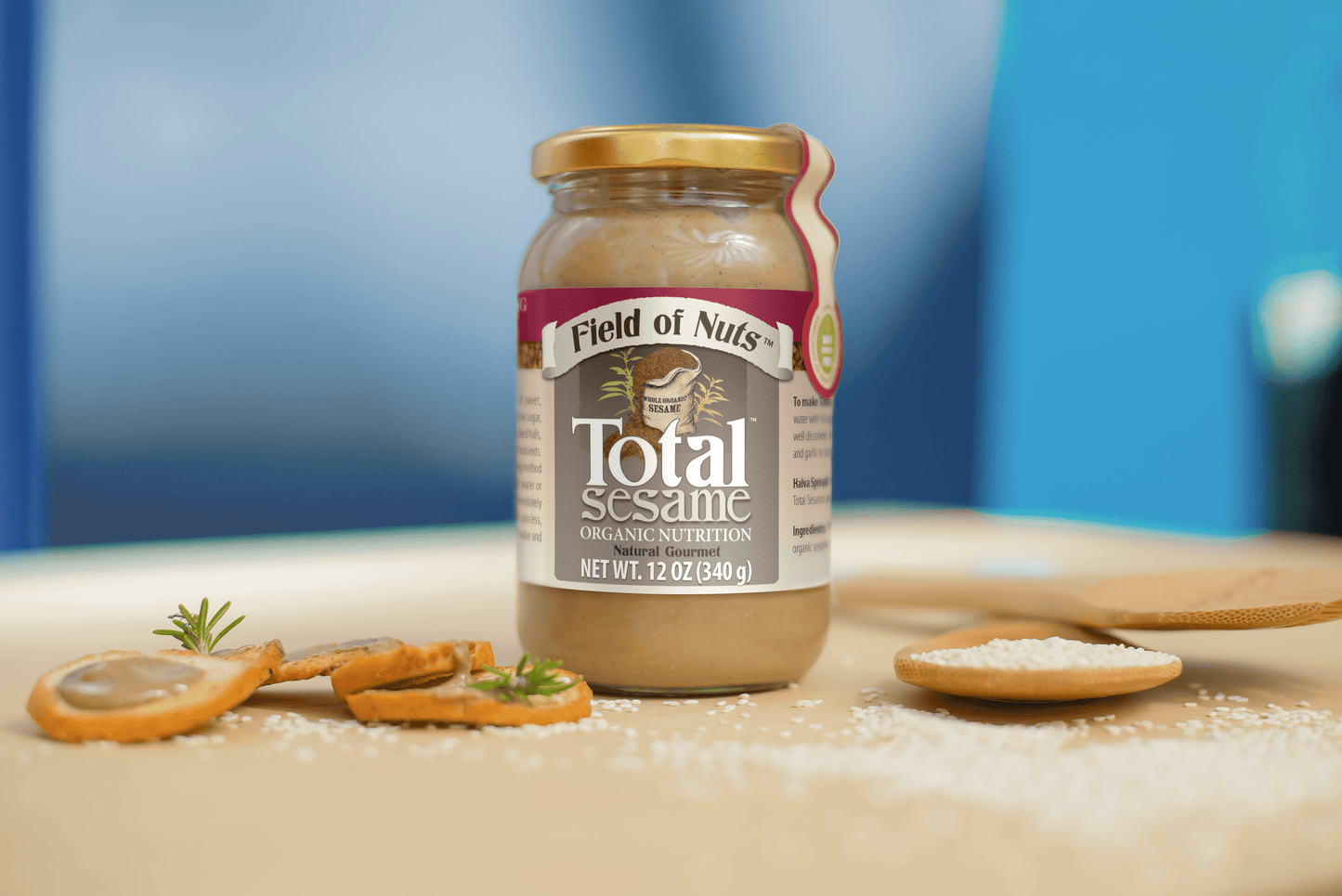 FAQs: Pistachio Butter
Who is Pistachio Nut Butter suitable for?

Our Pistachio Butter is 100% raw and packed with nutrition. It's unique, delicious taste and rich texture is all natural - it contains no sugar, salt, or additives. Field of Nuts Pistachio Butter is certified kosher, vegan, gluten-free, non-GMO, and dairy-free. Our Pistachio Butter is Paleo, Keto and Whole30 and SCD approved and manufactured in a peanut-free and soy-free facility.
There are so many ways to enjoy our Pistachio Butter
No vitamin pill can substitute for good nutrition!

Pistachio Butter is especially high in Protein, Fiber, Manganese, Copper, and Vitamin B as well as significant amounts of Iron and Calcium. It contains Unsaturated Fats, and is made with absolutely no preservatives, chemicals or additives. Pistachio Nut Butter has no added sugar or salt.  Just pure, raw pistachio nuts.
View list of nutrients in Pistachio Butter

Pistachio Butter contains the following per 28 grams (2 tablespoons)

Macronutrients: 

• Carbohydrates 2%  

• Unsaturated Fat 10.7 grams. saturated fat is only 1.6 g. Total fat of 12.3 g 

• Protein 12%

• Fiber 12% 

Vitamins:

• Vitamin B1 (Thiamin) 16%

• Vitamin B6 18%

• Vitamin K 5% 

Minerals:

• Iron 7% 

• Calcium 3% 

• Phosphorus 12%

• Manganese 18%

• Magnesium 8% 

• Copper 41% 

• Potassium 8% 

Fatty Acids:

• Omega-3 78.1 mg

• Omega-6 4,059 mg
Nutritional Benefits of Pistachio Butter

• Rich in Copper which helps in the function of a healthy nervous system, prevents anemia and osteoporosis. 

• Rich in Manganese, vital in bone tissues, calcium absorption, blood sugar regulation, brain and nerves. 

• Rich in Vitamin B6 which benefits the central nervous system.

• Rich in Thiamin (Vitamin B1), essential for glucose metabolism. 

• Rich in Dietary Fiber which encourages the body's elimination of waste and quickly, relieves constipation which helps with digestion and regulates metabolism. 

• Contains Protein which is essential for building and strengthening the bones and healthy blood cells. 

• Contains Phosphorus, essential for body structure and strengthening. Especially recommended for pregnant women and nursing moms. 

• Contains significant quantities of Iron which prevents fatigue. It helps metabolize proteins and stimulates the production of hemoglobin and red blood cells. 

• Contains Calcium, especially beneficial for pregnant and nursing women for building and strengthening bones and blood cells.
How can Pistachio Butter benefit your health?

• Loaded with nutrients 

• May help lower blood sugar

• Promote healthy gut bacteria

• May lower cholesterol and blood pressure

• May promote blood vessel health and heart health

• Low in calories yet high in protein. May aid weight loss

• High in antioxidants which help reduce the risk of heart disease
Testimonial
Mrs. Esther Schwartz, Brooklyn, NY

I was in hospital after having suffered a miscarriage. My iron level in the blood was so low, at around 7 grams per deciliter. Normal levels are above 12. The doctor advised me to eat raw pistachio nuts. He specified to eat only raw and not roasted nuts, and so I did. I ate around a 1 kilo of nuts and at the end of the day, I made it my job to finish the whole lot, as I desperately wanted to leave the hospital. The next day, my iron level was raised to above 10 grams per deciliter! The doctors couldn't believe it, and they sent me home!

Mrs. Rachel Smith, Denver, Colorado

I was very weak and faint for some weeks. I went for a blood check and found out my iron level was quite low. The doctor prescribed iron tablets, which I had to take once a day. I went to a friend and she suggested to me that I eat 2 tablespoons of Max Sesame Tahini and also 1 tablespoon of pistachio butter, as well as my iron tablets so I thought I would try that. After another couple of weeks I went for a check-up. My iron levels were so high, the doctor asked me the secret. I told him, 'As well as my iron tablets, I'm eating pre-sprouted, raw Max Sesame Tahini and pistachio butter." I came off the iron tablets and now just continue with the Tahini and pistachio butter. My iron levels are back to normal now!

John Williams, New York, NY

I had my blood sugar measured, and it was rather high, unfortunately. My doctor advised me to go on a low sugar diet, and also to eat pistachio nuts with a carbohydrate-rich meal such as pistachio nut butter on toast. Since pistachios have a low glycemic index, this would reduce my risk of getting diabetes. I tried Field of Nuts pistachio butter and after a few weeks went by my next check-up showed a reduction in blood sugar levels so I was very happy.